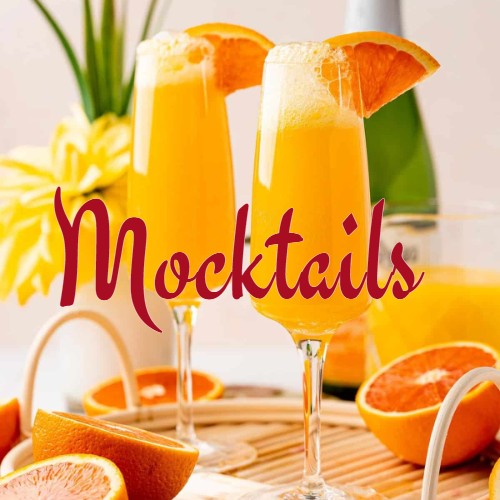 Oct 07 , 2021
The biggest and most suprising trend for weddings in 2022 are drinks.  Drinks? Yes, drinks!  Many couples are opting to eliminate alcohol from their specialty drinks served during cocktail and dinner hours.  They are instead choosing fun  mocktails, punches, and lemonades.  Some of the traditional drinks like mimosas are being spritzed up with  flavorful fruit juices and specialty sparkling waters.  All the bubbly, but not the buzz.  Also, you can still have a trendy look to your wedding by serving up these mocktail bubblies in cutting edge glassware. 
This trend started in 2021 and it looks like it is here to stay according to Refinery 29 and Delish.  It is definitely great news for couples planning their weddings in the coming year.  Couples can cut their wedding budget as much as $2500 -$5000+ by just eliminating alcohol from their wedding.  This is great because this money can be spent on a photo booth, a spectacular honeymoon, towards a downpayment for a house, a showstopping cake  or wedding keepsakes that guests will remember for years to come.  Of course, we think that the fourth idea is the best, however, this is just one of the many ways that couples can save and have a more budget friendly wedding that doesn't break the bank and their happily ever after.
Here is a recipe for a wedding favorite:
Sparkling Mimosas
Ingredients
30

 

ounces

 

Fresh Orange Juice

 

2-2/3 cups

18

 

ounces

 

Grapefruit or Lemon Sparkling Water*

 

1-1/2 (12) ounce cans
Directions
Pour ingredients into a carafe or pitcher and stir.  After you stir well, pour into  champagne flutes and add a slice of orange or grapefruit for decoration.
It's all about the FUN & FIZZzzzzzz.....!
Sources:
https://www.elletalk.com/mimosa-mocktail
https://www.delish.com/food/g2164/non-alcoholic-drinks/
https://www.refinery29.com/en-us/best-non-alcoholic-drinks-to-buy 
---